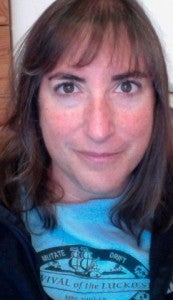 I am a Professor in the Department of Philosophy at UC Davis; in addition, I am affiliated with the Science and Technology Studies (STS) Program, the John Muir Institute of the Environment, and the UC Davis Interdisciplinary Animal Studies Research Group
My research interests include the way that general topics in the philosophy of science, such as causation, mechanisms, probability, and determinism, illuminate and are illuminated by topics in evolutionary biology and ecology. I am also particularly interested in intersections between evolutionary biology, ecology, and environmental issues.
Recent work examines the concepts of 'fitness,' 'population', and 'random drift'; race and sexual selection; and connections between population genetics and ecology. I am currently working on projects exploring Patricia Gowaty's adaptively flexible sex role model, on the importance of interconnectedness in Aldo Leopold's Land Ethic, on the implications of the concept of 'population' for our understanding of 'race,' and on the way that laboratory experiments, field experiments, and natural experiments can jointly inform us about ecological and evolutionary interactions.
Find my website here.